The Border Kirk, Carlisle   Rev D Pitkeathly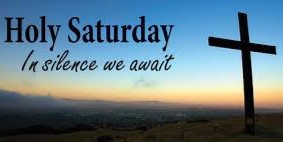 REFLECTION 6 HOLY SATURDAY
A lovely new book came out for this Easter for children which I had planned to read from in Church. It is called 'Are we nearly there yet' by Alison Brewis. It compares the familiar cry of the child in the back seat of the car about their frustration at a long journey, perhaps to a holiday destination, with that of disciples waiting for Jesus to get through 'the hard bits' to the joy of resurrection.
We all struggle at whatever age with the challenge of waiting for better moments and better days. There is no more poignant spiritual experience than that of many Christians who would normally attend Church this night entering fully into the dark night of Holy Saturday but yearning for the hope of Easter Day. We are presently gritting our teeth through many Holy Saturday moments but remember that God seems to bless those who can find a patient, prayerful spirit and that we have every reason to believe a new dawn will eventually come that will be so precious and so freeing.
Jesus is in the tomb tonight because in part Pilate washed his hands of Jesus. In a season of hand washing, it is my prayer that amid the struggle of this time none of us would be tempted to wash our hands of Jesus but that our faith would be more resilient and more eager once this time is over.
Worship Resources for Sunday 12th April, Easter Day
It is especially hard to be away from our sanctuary and our place of togetherness on this day of greatest significance for Christians, Easter Day.  We will miss singing rousing songs of praise as we contemplate Christ triumphing over sin and death. But He is alive and just as powerfully present with us in our homes. We can still draw great encouragement from how on this very day, Jesus shines the brightest of light into the darkest of situations.
Isaiah 40 v31 "May the hope of the Lord renew your strength and set your feet on solid ground."
An Opening Prayer
Gracious God, even in our present unsettling times, we do give thanks for this most special day of the year for all who follow you around the world.
We are grateful for a day when we can witness triumph in the midst of despair, promise in the midst of perplexity, joy in the midst of sorrow.
We acclaim you as one who could not be contained by death or defeated by evil, one who brought a bright new dawn of light at the end of period of deep darkness.
Like your friends of old we often doubt: renew our faith today.
Like your friends of old we often fear: embolden us with fresh courage.
Like your friends of old we often fail and disappoint: grant us your mercy and forgiveness.
Speak to us all now as you spoke to Mary on this Easter Morning.
Come and meet us with soothing words, come to give us anew reason to trust and confidence to move forward, come and stay with us imparting the assurance of your dependable, enduring presence, whatever lies ahead.
Amen.
The Lord's Prayer
Readings:           1 Corinthians 15 v1-7,                          John 20 v1-18
A few thoughts
During the last few months, I have visited Sarah a couple of times at her training college in Birmingham. Birmingham New Street is now a large expansive station and although quiet at the moment, is normally full of people rushing here and there. It is only when you stop and stand still, as I have done in front of the big departure board, that you spot amid the hustle and bustle, little precious encounters between people. So often these are significant reunions where people, be they family members, or those romantically involved, or those who are just friends, suddenly spot each other and there is so often joy and tears in their eyes and lingering, warm embraces. It struck me this week that the gospel writers accounts of the first Easter are primarily described as precious reunions: Mary Magdalene and Jesus in the garden, Thomas and Jesus in the Upper Room, Peter and Jesus on the beach. Yes, it is true as Paul tells us that the risen Christ met 500 people giving good proof of his resurrection but for him, as always, the individual encounters with people just like us were absolutely essential.
I have thus far avoided most school and university reunions but had considered attending one in St Andrews in July before it was postponed. It felt important to renew bonds, to share stories and to re-live memories. No doubt, if I was honest, there would have been a lot of idle gossip about those not there and lots of behind the scenes chatter about who is looking the oldest! But on balance, I think it would have been good to re-discover a togetherness that was such an important element of a key phase in our lives.
Separation is desperately hard, and I can recall no previous occasion in my lifetime when so many people have been kept apart from others who are so important to them. There will, I suspect, be some very moving reunions when the Covid-19 crisis has settled down. We will perhaps understand a bit better what Mary, Thomas and Peter felt.
Mary didn't expect to see Jesus ever again so she at first overlooks that it is he at her side on that first Easter Morning. When the penny final drops, her mouth was no doubt wide open in astonishment and the only word that came out was 'Master'. She flings her arms out in embrace and her eyes which were only moments before crying tears of bewilderment and frustration were now crying tears of joy. It is striking that Jesus brought the brokenhearted one, the doubting one and the failing one back into a close bond with God because reconciliation and restoration was at the heart of the whole Easter weekend. Already, only a couple of days before, the curtain that kept people from what was perceived as the presence of God, at the front of the temple, had been ripped in two just at the moment Christ died. A barrier that prevented closeness and comfort had been shattered.
I can't resolve the anguish you may be feeling over separation from friends and family but I can tell you that at Easter nothing is stopping you from uniting with or re-uniting with God. Come to him as Mary did and you might be surprised what comfort, what resilience, what hope you might find. Remember what Paul told the Romans:
'For I am convinced that neither death nor life, neither angels or demons, nor any powers, neither height nor depth, nor anything else in all creation will be able to separate us from the love of God that is in Christ Jesus our Lord.'
Gerald Manley Hopkins made Easter a verb in a poem about an incident of suffering declaring, 'let God easter in us'. He meant: let the power and consolation of the God who conquered death grip you and sustain you in these troubled times. AMEN
An Easter Blessing
May the Risen Lord roll away your doubts, speak peace to your fears and strengthen you by His living presence.
And May the Blessing of God Almighty, Father, Son and Holy Spirit, be with you and those whom you love this Easter and always.
AMEN
A prayer for others
Lord Jesus, at Easter you spoke words of peace to your troubled disciples. You brought calm and comfort to loved ones living with unsettled thoughts and profound grief. We observe with concern the large number of people in our country, and among them some known to us, experiencing the anguish of sudden loss and the particular pain of not being able to say farewell. Give courage and resilience to all families left shocked and dismayed. Aid their ability, O God, to come through these desperately difficult days and grant them hope and faith to face a changed future.
Lord Jesus, at Easter you tended to your closest ones. You ministered personally to those who had become like your family. We pray for all our homes at a time when we are learning to live in close proximity or very consciously having to cope alone. We pray that the sustaining strength of your resurrection would be felt in our homes and that you would enable our relationships to be positive and caring. We pray for homes where there are deep tensions, where there is weariness and limited patience, where there are struggles with depression or addiction, where there are fears for the future. We ask that, in particular, your living presence as friend and comforter would be known by those without daily company.
Lord Jesus, at Easter you brought hope in unlikely circumstances. You defeated the odds and brought restoration and new life. We pray for all who are working to defy the odds in intensive care units and regular wards, thanking you for their skills and their commitment. Renew their strength and provide for them moments of encouragement and success. Support them in deep tiredness and in times of setback. We commit into your hands all our key workers from carers to bin men to teachers to shopkeepers to food bank drivers, praying that you would keep them well and enable them to thrive in the acts of giving to others.
Lord Jesus, at Easter you revealed your sense of power and your good purposes for the world. We pray earnestly for ways forward for our nation and the world and ask that you would guide those with challenging decisions to make. We pray for the full recovery of our Prime Minister and for wisdom and insight for those leading in his absence. We thank you for signs of Spring around about us, for evidence of neighbourliness, for a tangible absence of pollution and we pray that on Easter Day we would hold particularly tightly to the Lord of all hopefulness and learn well from the lessons this crisis may be revealing.
We ask our prayers in Jesus name. AMEN.
HOLY WEEK REFLECTION 3 WEDNESDAY

The funniest offering I recall was when at a school service at Glasgow cathedral my neighbour dug out his pocket an orange Club biscuit and put it in the offering bag. He explained afterwards that he had forgotten to get money from his Mum but thought the biscuit would sustain those counting the collection during that long and intense task. And maybe's he's right...it would certainly have lifted their spirits when they pulled it out.        
The most generous and uplifting offering of this Holy Week is that of Christ's life poured out in devoted love for our sake. However, before it occurred 2 women showed unlikely generosity in the final hours of Christ's ministry. Firstly, a widow with clearly limited means dropped her mite into the temple treasury with Jesus delighting in the fact that she had given out of her poverty, releasing all she had and, in effect, giving far more than the rich. Secondly, at Bethany, perhaps on this Holy Wednesday, a younger woman poured out expensive nard upon the head of Christ, an act of supreme love and a perceptive anticipation of Christ's forthcoming death and burial. Again Jesus takes time to acknowledge her remarkable sacrifice, her sharing of a year's wages worth of perfume, and he states that her act will long be remembered.
We are reminded by these 2 women of all who are doing unlikely and valuable deeds of sacrifice at this present time. We are challenged to give to God and to others in the fullest possible measure and to value afresh the lengths His Son was prepared to go for us in the course of this harrowing week.
HOLY WEEK REFLECTION 2   TUESDAY

One of the stories further down the headlines today is one containing speculation as to whether Prince Harry will take out dual citizenship, holding both UK and US passports.
On the Tuesday of Holy Week, we often recall the attempts by the Pharisees to entrap Jesus such that the Roman authorities might have cause to arrest him. In Matthew 22 they throw in a tricky question about whether he agrees with paying tax to Rome when, for a Jew, God alone was sovereign. Jesus very adeptly declares that we are dual citizens, citizens of earth with a commitment to our country but also citizens of heaven with profound obligations to God.
It is a reminder to pray for our Prime Minister in his fragility, for all who lead in his stead and for all who serve our nation so well in testing times. There is too that great assurance that we belong to a loving heavenly Father and we find our security and eternal promise in Him.
Easter Activities for children have been posted to the Youth Group Page.
WELCOME TO THE BORDER KIRK
A PRAYER OF SOLIDARITY IN A TIME OF PANDEMIC
May we who are merely inconvenienced remember those whose lives are at stake.

May we who have no risk factors remember those most vulnerable.

May we who have the luxury of working from home remember those who must choose between preserving their health or making their rent.

May we who have the flexibility to care for our children when their schools close remember those who have no options.

May we who have to cancel our trips remember those who have no place to go.

May we who are losing our margin money in the tumult of the economic market remember those who have no margin at all.

May we who settle in for a quarantine at home remember those who have no home.

During this time when we cannot physically wrap our arms around each other, let us find ways to be the loving embrace of God to our neighbours
Amen
Author unknown but circulating round churches in the US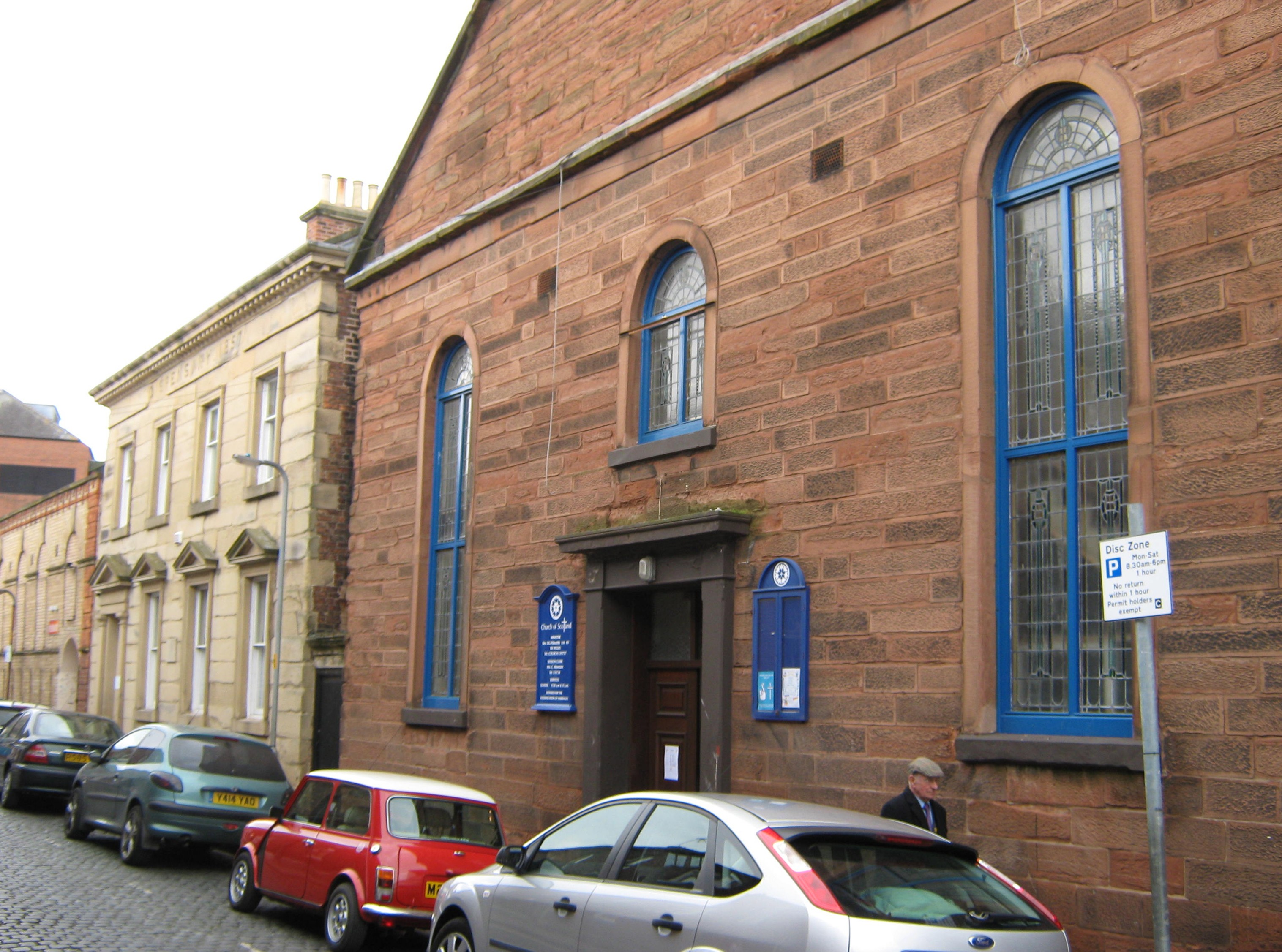 Welcome to the Border Kirk in Carlisle. We are the most northerly Church of Scotland in the North West of England and have in our midst many Scots who live in and around the Border City but we attract also many non-Scots who enjoy our friendship and share our worship on a Sunday or join us in our various functions. A small number of our congregation worship with Methodist friends in Longtown.
Our services at Carlisle are weekly on Sunday at 11am with an alternative informal worship at 9.50am on the 2nd Sunday of the month which is aptly named 10-2-10. Children are welcomed at our Sunday club, which runs during the main service. If you visit Longtown, worship there is on the 1st and 3rd Sundays of each month at the earlier time of 9.30am in the local Community Centre since the church building closed at the end of 2017.
We have been in Carlisle since 1832, when the Earl of Lonsdale granted land for the building of two churches on Chapel Street, Carlisle. The "Scotch" Church still survives and joined with the Church of Scotland in the nearby town of Longtown to form The Border Kirk in 2004. There has been a worshipping congregation of the Church of Scotland at Chapel Street since the building was erected in 1834 and we are proud of our Presbyterian heritage The building was converted and renovated in 1979 and further up-graded in 1994, with extensions to the sanctuary, side and rear of the building providing additional amenities on three floors, serviced by a lift.
The Border Kirk, though in England, is part of the Presbytery of Annandale and Eskdale and our congregation in Carlisle and Longtown are of a 'gathered' nature and comprise people from all walks of life who have connections with Scotland and its Kirk
Welcome to all! 
Whether you are a member or a visitor to our website, we hope, as you browse, you may find something to interest you.

 Feel free to contact us through our contact page. We'd love to hear from you.