Intimations - for The Border Kirk Newsletter please refer to News Section
We are very fortunate to have our organist Mark Rimmer available four weeks per month. You are welcome to join is in The Border Kirk. The service will also be streamed live to The Border Kirk Facebook page.
The Sunday bulletin with the order of service is available to download: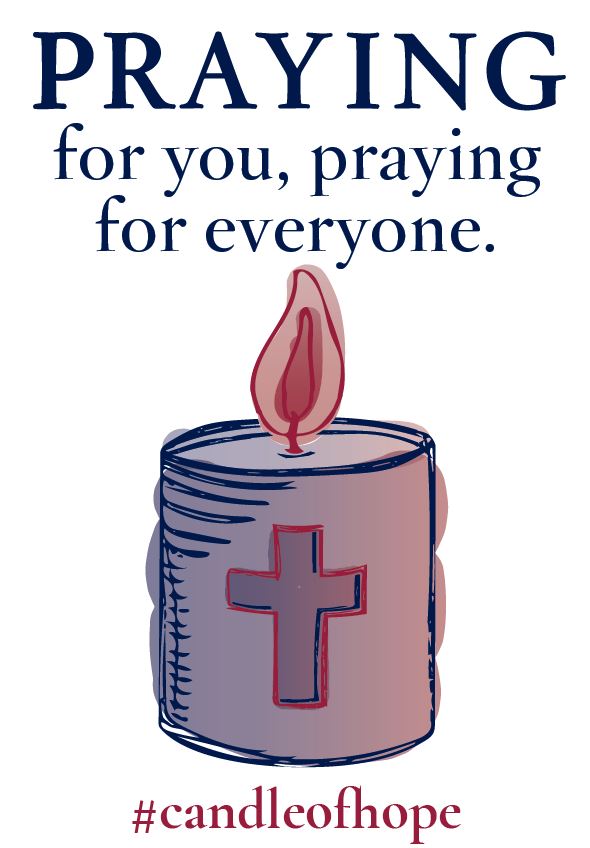 CORONAVIRUS 
Thursday 19th March 2020
Regretfully,  I have to inform you today there will be no further acts of worship in Chapel Street or 

Longtown
Community Centre or any other activities in the Carlisle Church building until further notice.
The Border Kirk is keen to keep in touch with the congregation and eager to provide practical support if people are staying at home because they are over 70.  This group may need help with their sho
pping, collecting prescriptions or other key errands and if this is the case there  are a number of folk that you can telephone.  The following people have agreed to assist
Ken   012280818991
Fiona   01228 523374
Fiona   07743 446497
The Minister   
Rev Wes Brandon
Worship Resources for Sunday 29th March Passion Sunday
Once again we are not in our sanctuary but today's readings remind us that God comes to us in our homes at all times but especially at times that are fraught and uneasy. The story of the raising of Lazarus reminds us that we may be outwith our building but we still can find fresh security, renewal and hope within the sanctuary or under the shelter of God.
We begin with a prayer of approach to God on a Sunday when we read of his entering into suffering and countering it with hope and love:
Lord Jesus, we are pleased to come into the presence of a God who is not distant or detached but who is familiar with suffering and acquainted with grief.
We come with thankfulness, grateful that like Mary and Martha we have in life a friend to call upon and shout to each day, a Saviour to trust and believe in, a Master with whom we can share both our fears and our tears.
We thank you for your amazing love for Lazurus's home and his family in their season of particular bewilderment and the culmination of that love for all your children, seen in your sacrifice on the cross of Calvary.
Loving Lord, you died to win our forgiveness and achieve our peace. Cleanse us this day as we recall foolish choices, regrettable words, hasty actions, and the impatient thoughts that we have been responsible for, especially amid the unique stresses of recent days.
Mend and strengthen now all our relationships: both our bonds with you and with those around us. Help us to know that by your wounds we can be healed.
Come to us now in our homes and soothe us and sustain us by your presence: meet with us amid the many emotions we carry with us into worship this day and bring to our hearts your precious gifts of hope and new life,
For we ask it in Jesus name.  Amen.
And we say The Lord's prayer
Readings:  Isaiah 53 v1-6                      John 11 v1-45
A few thoughts:
I read somewhere that men all around the country are presently regretting all the jobs they promised to do around the house but had thus far put off. I suspect we will all complete many outstanding tasks in home and garden in these days of confinement and perhaps come to appreciate our places of residence a little more. We have no record of a full-time home base for Jesus in his 3 years of ministry but we do sense that the home in Bethany of Mary, Martha and Lazarus was as near as he came to a place of stability and rest amid the turmoil of life. Perhaps he might have hoped it would stay that way but suddenly it was plunged into anxiety and distress by the deterioration in health and eventual death of Lazarus. It had been a calm retreat for Jesus but he was prepared to come into that home, not just for the routine and comfortable times but also the troubled and messy days too. As we spend long hours in the same four walls, we can be assured as we understandably fret about our own wellbeing, that of our loved ones and that of our nation that Jesus comes to where we are with a gentle empathy and a powerful hope.
One very precious gift that we are valuing more than ever at the moment is the telephone. Many of us have all kinds of contemporary technology but the phone remains a vital lifeline of companionship in times when we are kept apart. In 1875, while experimenting with the idea of transmitting speech by electrical means, Alexander Graham Bell discovered the basic principle that made the telephone possible. The next year, on March 7, 1876, Elisha Gray of Oberlin, Ohio, applied for a patent for a telephone – two hours after Bell patented his invention! For Gray this was one of life's rather regular 'if onlys' - if only I had been 121 minutes earlier!
In the story of the illness, death and resurrection of Lazarus, Martha and Mary both had their 'if only' moments: if only you had been here, my brother would not have died, they said. We will naturally wrestle with the thought that if only God had intervened and stopped this virus, so much heartache would have been prevented. I do believe God is intervening in many acts of light and grace throughout this crisis and hearing compassionately our prayers. Things happen on this earth that break God's heart and cause him to weep with us and for us: he does grieve our world's many forms of brokenness and in his time, he promises to fully heal, resurrect and restore. Some questions we will not have answered this side of eternity but like Martha though our woes we need to declare, "I still trust, I still hope, I still believe. I know you will find a way through this for us."
"Jesus wept," is the shortest but most poignant verse in the Bible and it speaks, as Isaiah puts it more fully on this Passion Sunday, of a God as a man of sorrows, familiar with suffering. A pierced and crushed Jesus knows the worst that the world can throw at him but finds a deep well of perseverance and resilience on that long, slow journey to Golgotha's Hill. Whatever emotions you are enduring at the present time Jesus has experienced these emotions of aloneness, trepidation and sadness too and walks with you on this testing road to a better day.
What song would Mary sing after Lazarus rose from the dead? What hymn might she utter after her initial frustration and impatience with God was overcome? Here is a song that fits her feelings and I invite you to sing it too:
Let us pray:  Lord God, we read today of how you were profoundly moved by people in a family home and a wider community who felt that everything in life had been turned upside down. We watch you kneeling at a tomb of a dear friend and we see that in the face of the turbulent moments of human life that Jesus wept. We believe that God shares and supports us in our darkest moments and offers glimmers of light in the midst of the most forbidding tunnel.
We continue to pray about the impact of the Coronavirus which has had such a profound impact on our daily lives and our sense of wellbeing. As Jesus drew alongside Martha and Mary in their experience of grief and change, we pray that you would draw close in comfort and reassurance to all who are finding their mental wellbeing compromised by an experience of lockdown.
We see you as a healer in this story, and we pray for those working with such skill and commitment to save lives in hospital.
We see you as a leader in this story, and we pray for those in responsible positions both locally and nationally as they wrestle with searching and uncomfortable decisions.
We see you as a transformer in this story, and we pray for the conquering of coronavirus particularly in countries where death tolls are high.
We see you as comforter in this story, and we pray for all worried about their finances and the future of their jobs.
On Passion Sunday as we imagine today Christ's deepest feelings on the Cross of Calvary, hear our prayers for those we know:
those perhaps feeling in the worst moments, God's absence…unsettled by events and their consequences;
those perhaps knowing a profound sense of aloneness, cut off from loved ones and facing challenging moments in isolation;
those perhaps experiencing pain of body and anguish of mind because they themselves are unwell;
those perhaps encountering the ache and distress of walking through the valley of the shadow of death;
Draw alongside, O crucified Lord, in empathetic grace all who are experiencing a time of struggle and suffering this day.  Amen
A closing blessing
May God shield you in the valleys, May God aid you on the mountains,
May the Holy Spirit bathe you on the slopes
In hollow, on hill, on plain.
Mountain, valley and plain. Amen.
A prayer of Approach

for Sunday 22nd March - Mothering Sunday
Loving God, we come before you this Mothering Sunday remembering how you saw yourself as a mother gathering your chicks under your wings: a shielding and sheltering God who surrounds us with protective love in the nests we call home.
We take comfort in these challenging times to recall how you tenderly and supportively parent us, bringing a sense of security and direction to our anxious and unsettled lives.
Help us on this more difficult Mothering Sunday to communicate openly with our heavenly parent about the feelings and the fears we bring to this day.
Grant us forgiveness where we have been selfish in the midst of this crisis, grant us perseverance where we have perhaps understandably have started to lose heart, grant us guidance where difficult choices and sacrifices have got to be made, grant us courage to embrace the inevitable challenges and changes of the days ahead.
Bring above all a peaceful and resilient spirit to each of our hearts.  Amen.
Follow this by saying the Lord's Prayer.
Two readings to read and consider.
Old Testament:  Deuteronomy 31 v7-8,  Deuteronomy 32  v 10-12
New Testament: Luke 13  v 34-35
A few thoughts
Sporting channels are showing old highlights just now with nothing fresh to offer and I saw a video of an old dressing room team talk described as one of the best by the manager Neil Warnock which to me was just a string of swear words.  Today we find inspiration from a team talk that also speaks of God many times but not in blaspheming form.
In Deuteronomy, Moses takes time to encourage God's people, espescially Joshua their new leader, as they as a community face the apprehension and uncertainty of crossing over the Jordan.  No one knows what changes they will experience in the coming days and no one knows what enemies or challenges may lie in wait.  Moses wants to embolden Joshua and declares to him that God goes before him into this fraught period and that he should place his understandable anxieties into the hands of the Lord.  As Joshua contemplates a daunting propect, as we do at this point in our history, he is bolstered with these words:
Deuteronomy 31 v 7-8:
"Be strong and courageous....the Lord himself goes before you;  he will never leave you or forsake you.  Do not be afraid, do not be discouraged."  
It was lovely to read of Italians singing words of uplift to each other across balconies in their isolation and Moses sings to the whole uneasy people of God a strengthening song in chapter 32.
It would be fully understandable at the present time to look forward with discomfort as we worry about the possibility of becoming ill or illness touching our family.  We will be concerned too about the impact on both our economy and wider society and perhaps feel sore that special plans have been lost.  Moses by singing actually turns God's people's minds back to past experience of God's grace in struggle so that they might cling to that strength and support as they move forward.  He gives a lovely picture of a God with maternal qualities sheltering, sustaining and tending to His children's needs over 40 years in the wilderness.  As you contemplate and give thanks for the protective care of mothers and mother figures in your life......cherish and hold on to this lovely picture.
Deuteronomy 32  v 10-12
"In a desert land he found him, in a barren and howling waste.  He shielded him and cared for him.  He guarded him as the apple of his eye like an eagle that stirs up its nest and hovers over its young, that spreads its wings to catch them and carries them on its pinions."
As we near Easter it is good to recall that Jesus woud provide a similar image as he neared his fate.  In Luke 13, he describes himself as looking down on Jerusalem like a Mother Hen wishing to gather her chicks under her wing, deeply troubled within his heart by the upcoming challenges facing the Holy City.
On a very different Mothering Sunday to normal, let us have the deep sense of being watched over, held close and provided for by God with both paternal and maternal qualities.  Amen
You may find it strange to sing in the house but if you feel happy to do so here is one song attributed to St Patrick whose special day was this week.  It is sung to Morning has Broken:
1.  Christ beside me, Christ before me
     Christ behind me, King of my heart;
     Christ within me, Christ below me,
     Christ above me never to part.
2.   Christ on my right hand, Christ on my left hand,
     Christ all around me shield in my strife;
     Christ in my sleeping, Christ in my sitting,
     Christ in my rising  light of my life.
3.   Christ be beside me, Christ before me,
      Christ behind me, King of my heart;
      Christ within me, Christ below me,
      Christ above me never to part.
 

A Prayer for Others

  

which you can say in these testing days.
God of Mercy, be present as healer and sustainer with the tens of thousands of people who have contracted the coronavirus around the world.  Comfort tenderly those whose loved ones have died and now have to cope with unexpected anguish.  Bring calm and reassurance to those living with uncertainty after perhaps being exposed to the virus.  Give patience and resilience to those who are quarantined or self-isolating and are unable to move freely in their communities.
We pray for older people feeling particularly lonely or unsettled in the face of the threat of this condition.
We pray for younger people missing out on important exams and worrying about the impact on their future.
We pray for businesses struggling to keep afloat and for workers losing their jobs and security.
We pray for medical and nursing staff  working flat out to tend the sick at significant risk to their own wellbeing.
We pray for leaders making important judgements about what to do best for our nation and its people.
Hear our special prayers for the people of Italy and Spain facing a particular weight of distress and alarm due to the effects of this virus.
Finally, hear our prayer for Mothers everywhere amid all the extra and pressing worries these days will bring.  We give you thanks for all who have had a motherly influence on our lives and we remember these cherished women before you and commend them to your loving care.  Amen.
Blessin
g
May the roads rise to meet you;  May the wind be always at your back;
May the sun shine warmly on your face; May the rain fall softly on your fields
And until we meet again, may God hold you in the hollow of His hand.
Amen
Christian Aid Week 2020
 
 The Border Kirk provides support for Ekwendini, Malawi